Posted on September 03 2019
Monte Saint Anne hosted the 2019 Mountain Bike World Championships as the team arrived after an overnight flight from the west coast. A special weekend with riders representing their country is a huge honor and Pivot was lucky enough to have all riders selected to pull on their national jersey on race day. Eddie was gutted not to be riding but was still planning on attending the race to cheer on team Pivot and team New Zealand.
To add to the excitement and uniqueness of the World Champs Pivot had pulled out all the stops to surprise the riders with custom painted frames. Bernard's was painted up in the style of his pride and joy, a 1996 Honda CR500 Motocross bike. Emilie's frame was an awesome flat chrome finish with amazing details of her name in Morse code on the rear triangle.
Eddies frame was black and white representing the colors of the New Zealand with details and prints of all thing's kiwi fruit, Flip flops, rugby balls, kiwi birds and fern leaves. Matts frame stood out the most when he unwrapped it. An amazing color scheme representing the New Zealand green stone that is famously used for jewelry looked spectacular on a bike frame and glistened in the sunlight.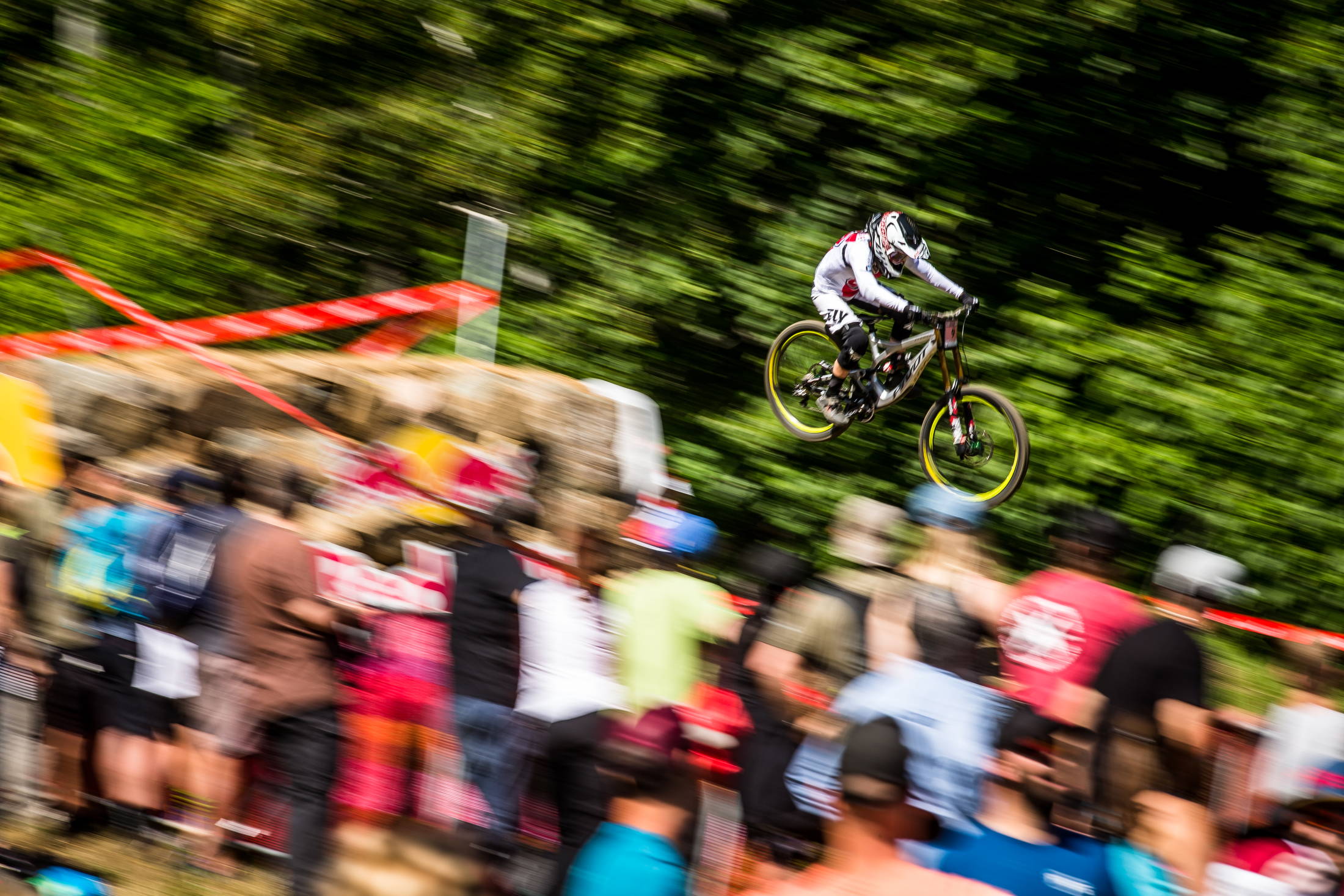 Wednesday - Track walk  
Monte Saint Anne is one of the longest held Downhill races and the track has a legendary status. Long, rough and rocky it has hosted amazing racing over the years. The track for 2019 have very few changes from the previous year's world cup meaning riders would be up to speed in no time at all. After track walk Matt and Bernard took some time to watch last year's World Cup replay to revise lines and get ahead of the game.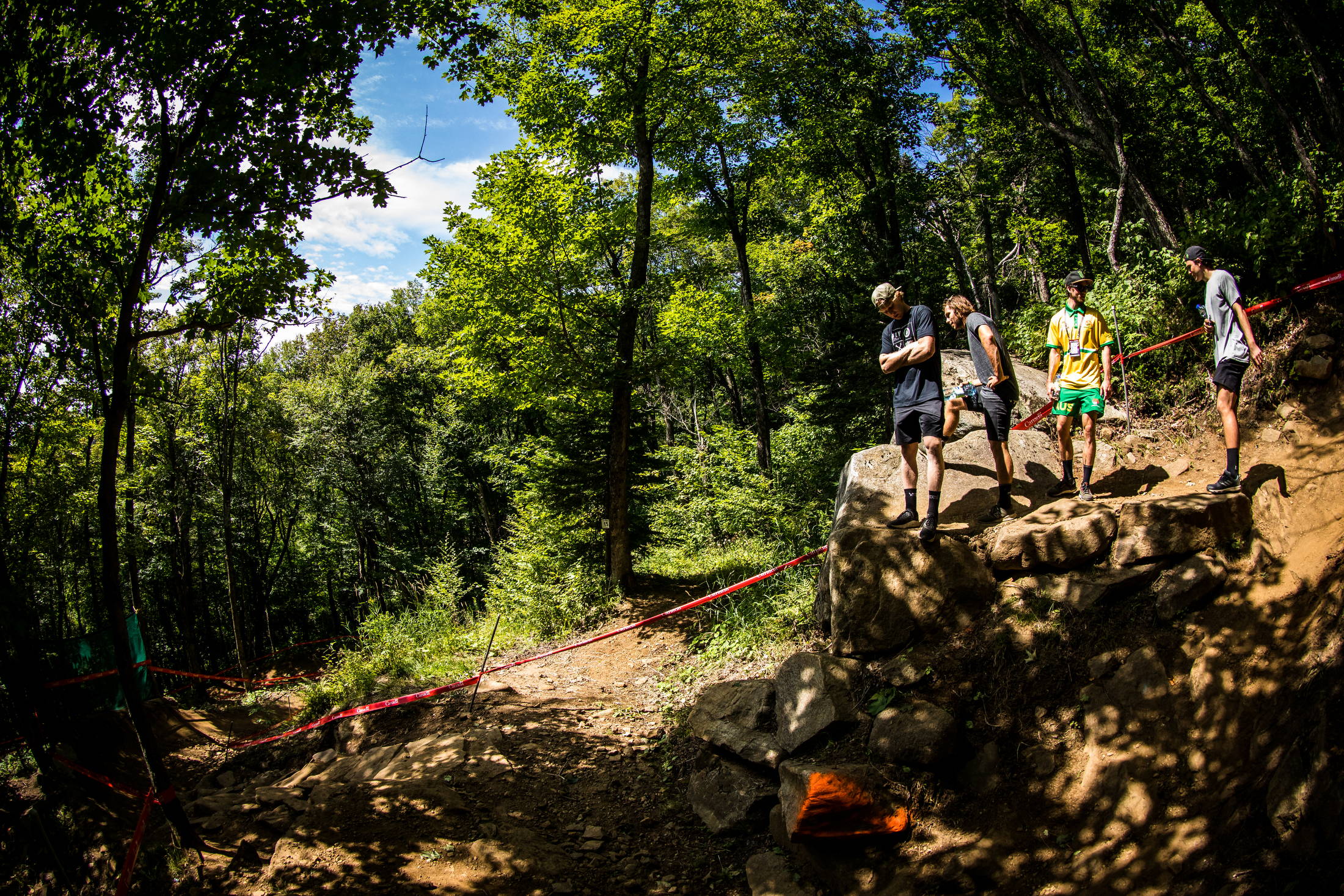 Thursday – Training
Training day arrived and so did Eddie. Recovering from his surgery, he was happy to get back with the team and it was bittersweet to see his custom painted bike. He was stoked on the bike and surprise paint job but gutted no to be riding and representing his country.
Emilie started training on a slick track after a night of rain. With more training time in the World Champs schedule Emilie only rode 3 laps working out the lines and building up to the high speeds the track requires.
Bernard was back riding after a few weeks out with an injured hand. A tough comeback with a fast and rough track and the pressure of the riding for his country Bernard was revelling in being the underdog. Riding two training runs Bernard felt up to speed and was enjoying being back racing.
Matt was loving the new bike feeling and the custom paint job. Taking a few runs to get up to speed and used to the race set up suspension Matt was finding the track stayed slick through training with riders dragging mud onto the many rocks and rock rolls.  
---
Friday - Qualification
Qualifying at the World Championships is a bit different from world cups, with 80 riders to qualify in the men's field and 81 entered it would be a disaster not to qualify for Matt and Bernard. Emilie was a protected rider due to her UCI ranking taking all the pressure off her qualification run.  
Drizzle on and off throughout the morning of qualifying kept the rocks on track slick and track challenging but the rain really came down for the timed runs. Emilie crossed the line with her bike covered in mud but a solid run in the wet conditions left her with a great 4th place qualifying.
Matt cruised across the line, a huge moment at the top of the track saw him high side off his bike. Landing on his feet he remounted quickly but it was a good reminder that qualification was almost guaranteed and he finished his run safely.
Bernard also cruised across the line, not wanting to risk a crash on his hand the first race back he finished mid pack easily qualifying. Enjoying being back on track and the wet condition he was building up speed over the course of the weekend and feeling better and better on the bike.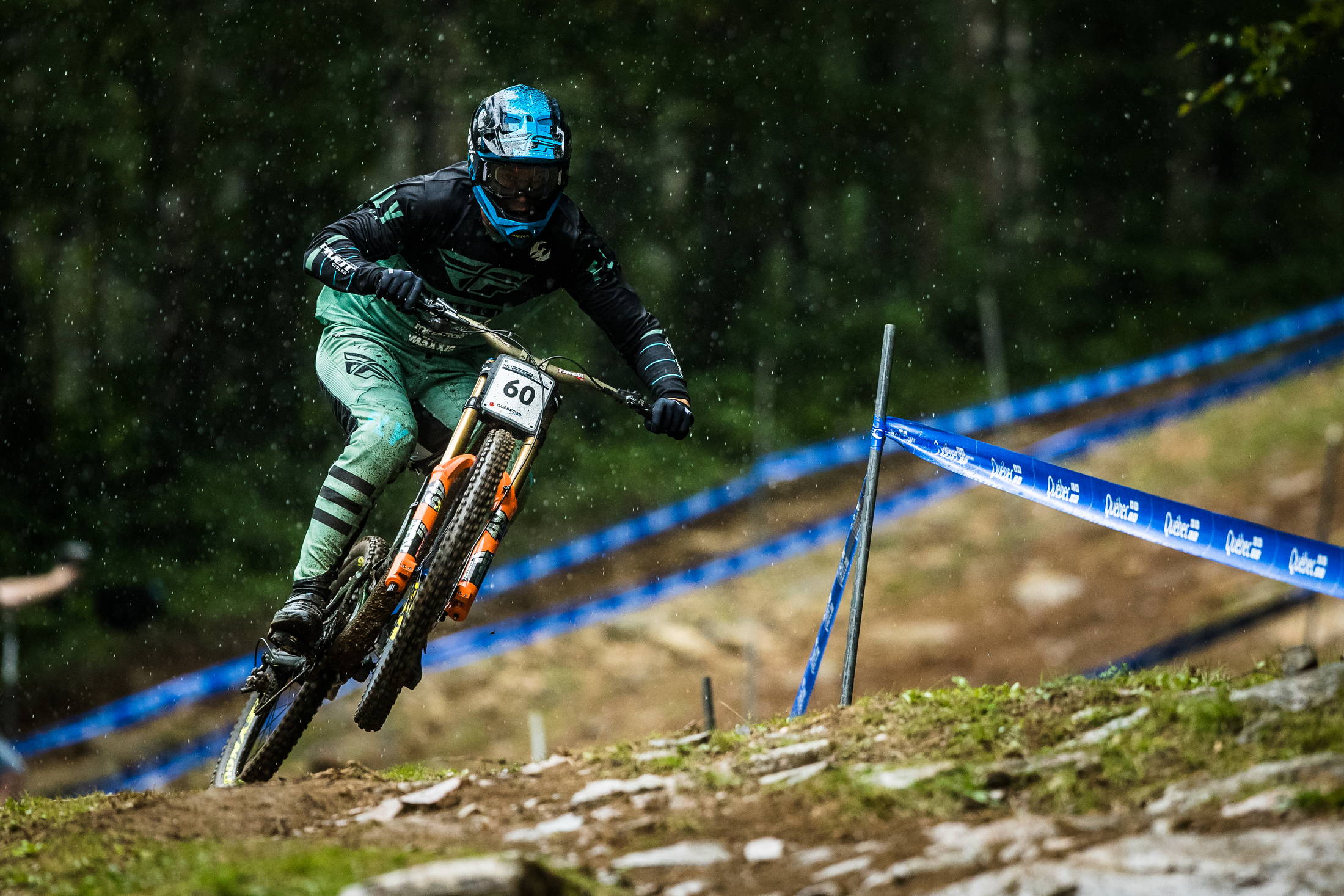 Saturday – Training
Huge rain storm followed the previous days timed runs and the track was showing it for a second day of training. Huge holes were forming on the racing lines and making the riding harder and more fatiguing.
Emilie was enjoying the drying track and extra grip. Riding well and feeling comfortable on her bike she only rode two training runs and headed out to cheer the rest of the Swiss team racing the Cross-Country finals.
Matt and Bernard both completed two runs. The extra holes on track made for hard work but lines remained unchanged. Bernard's hand was feeling better and better each day riding and he was ready to hang it out for finals.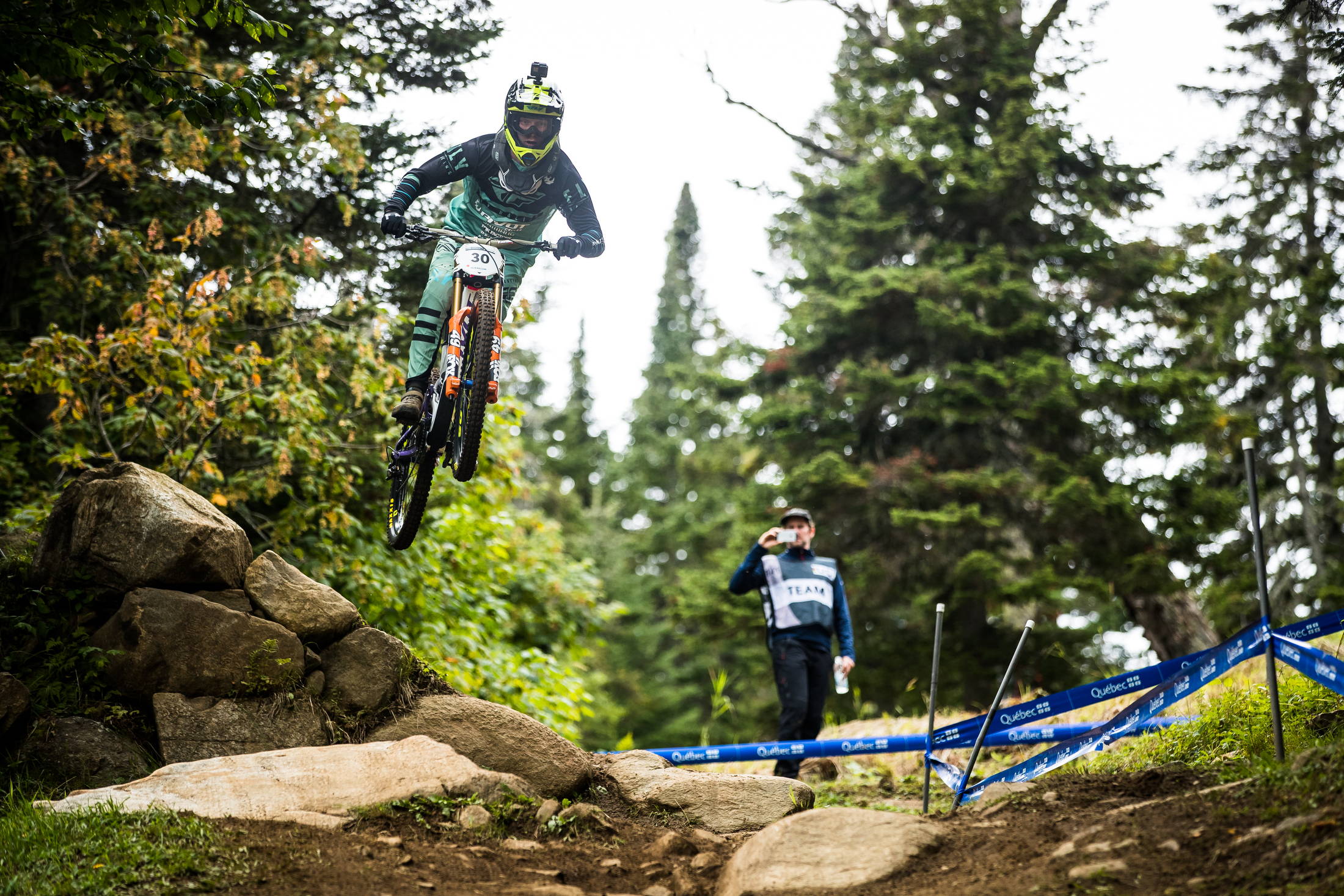 ---
Sunday - Finals
Finals day brought bright sunshine and huge crowds. The weeks racing had chewed the track up making it rougher than ever and would require a wild run to win the Rainbow Jersey.  
Emilie had been feeling good on track all week and was ready to push hard. Coming out the start and straight into the rough high speed track she was looking fast. Staying strong on her bike Emilie hit all her lines and crossed the line in 3rd. The race run was one of the best of her season and left her in a brilliant 5th place finish. Emilie was super happy with her performance and a great time that was only 5 seconds off the win.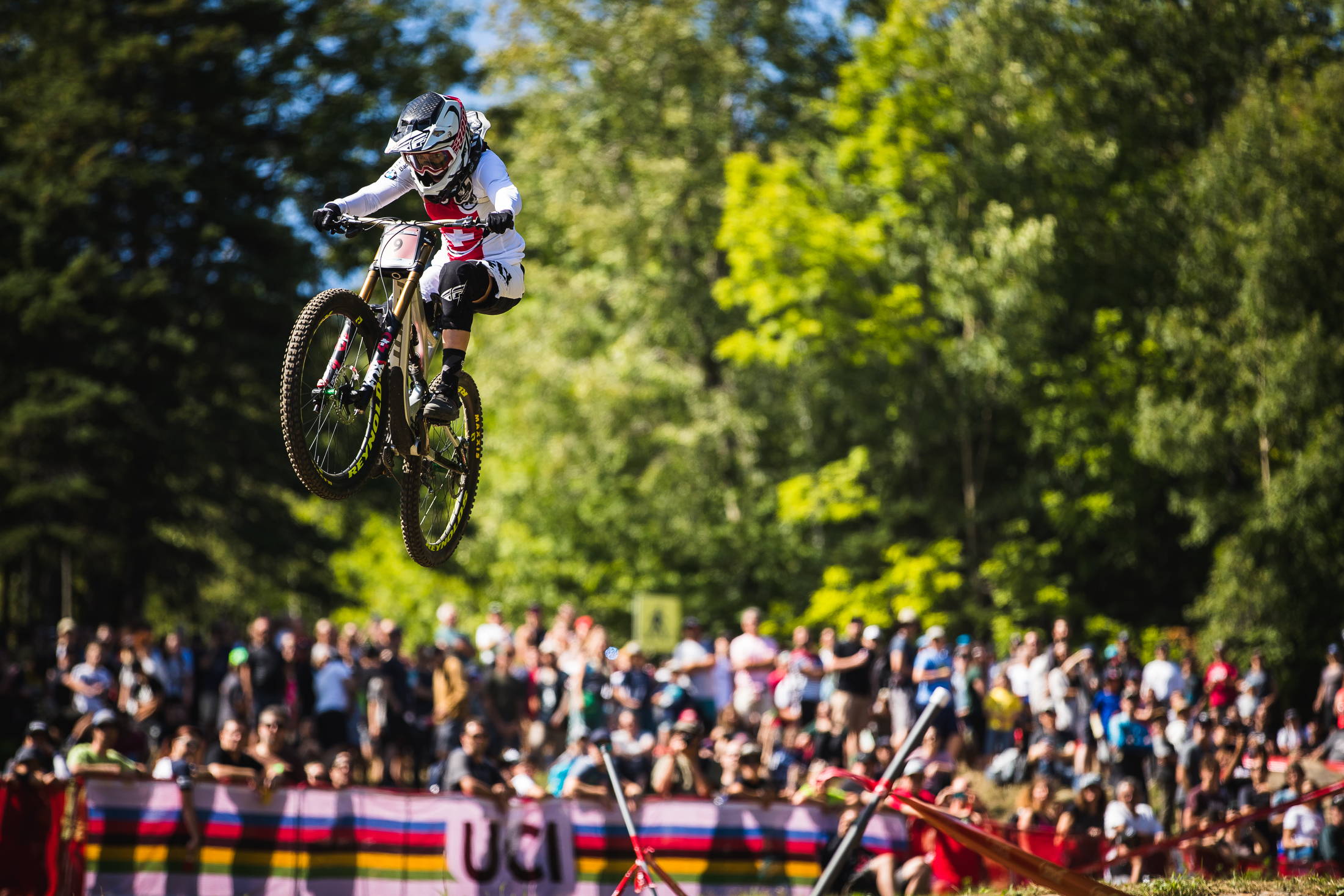 Matt started his race run relatively early and everyone was hoping for some hot seat time. Matt crossed the line into first and felt his run was good but some fatigue at the end of his run cost him a little time.
Bernard came into the packed finish area and pulled a huge stylish scrub off the final jump to please the crowd. Bernard was aiming for a 4-minute 20 seconds race run and was happy to achieve this. A very tough track to come back on and after time off from riding he was chuffed with the result and his performance.
Meanwhile Matt was still in the hot seat. It took well over an hour for his time to be bettered and a nervous wait continued as the last few men dropped into track with Matt sitting in the top 10. A brilliant ride from Matt saw him finish in 11th, equalling his career best World Cup finish.
A great weekend for the team with two brilliant results from Emilie and Matt and a great return to racing from Bernard had everyone excited to head over the border to West Virginia for the World Cup finals in Snowshoe.